Hunter™ is the new generation of smart and powerful mobile phone detection, capable of detecting every phone band in any country.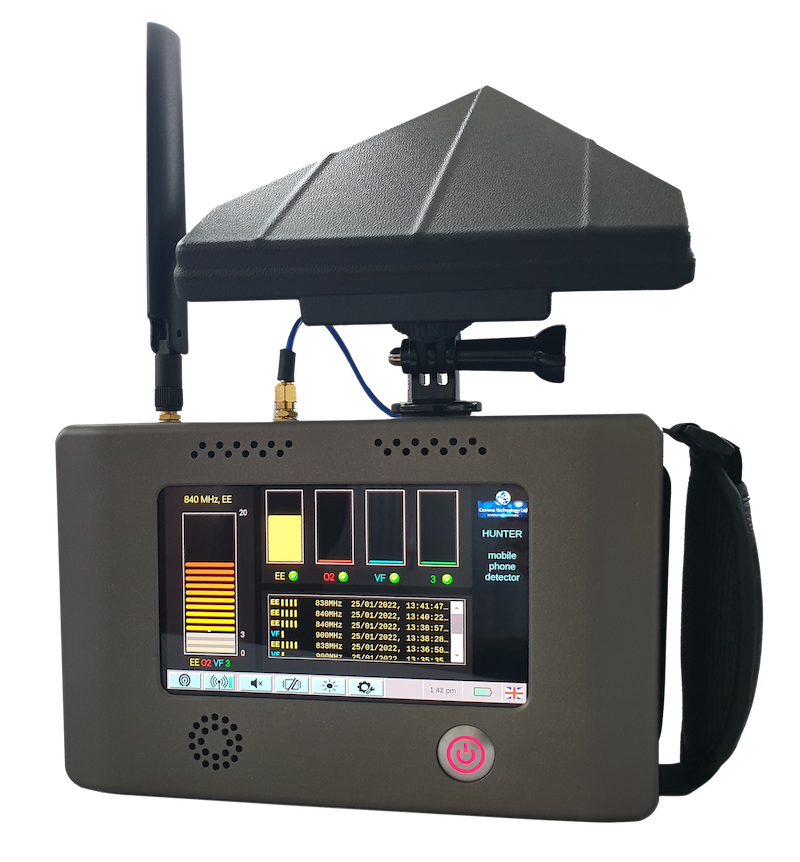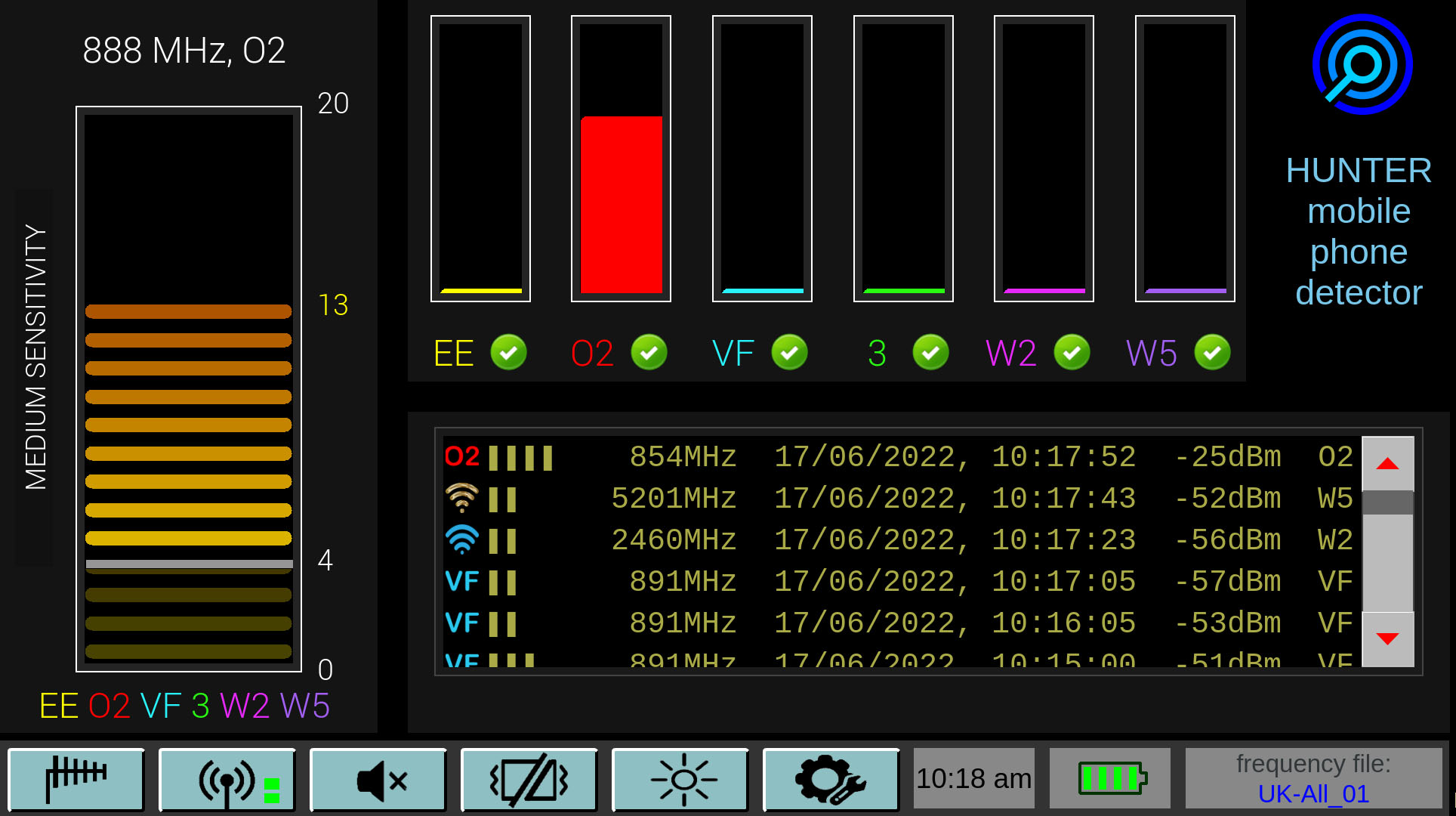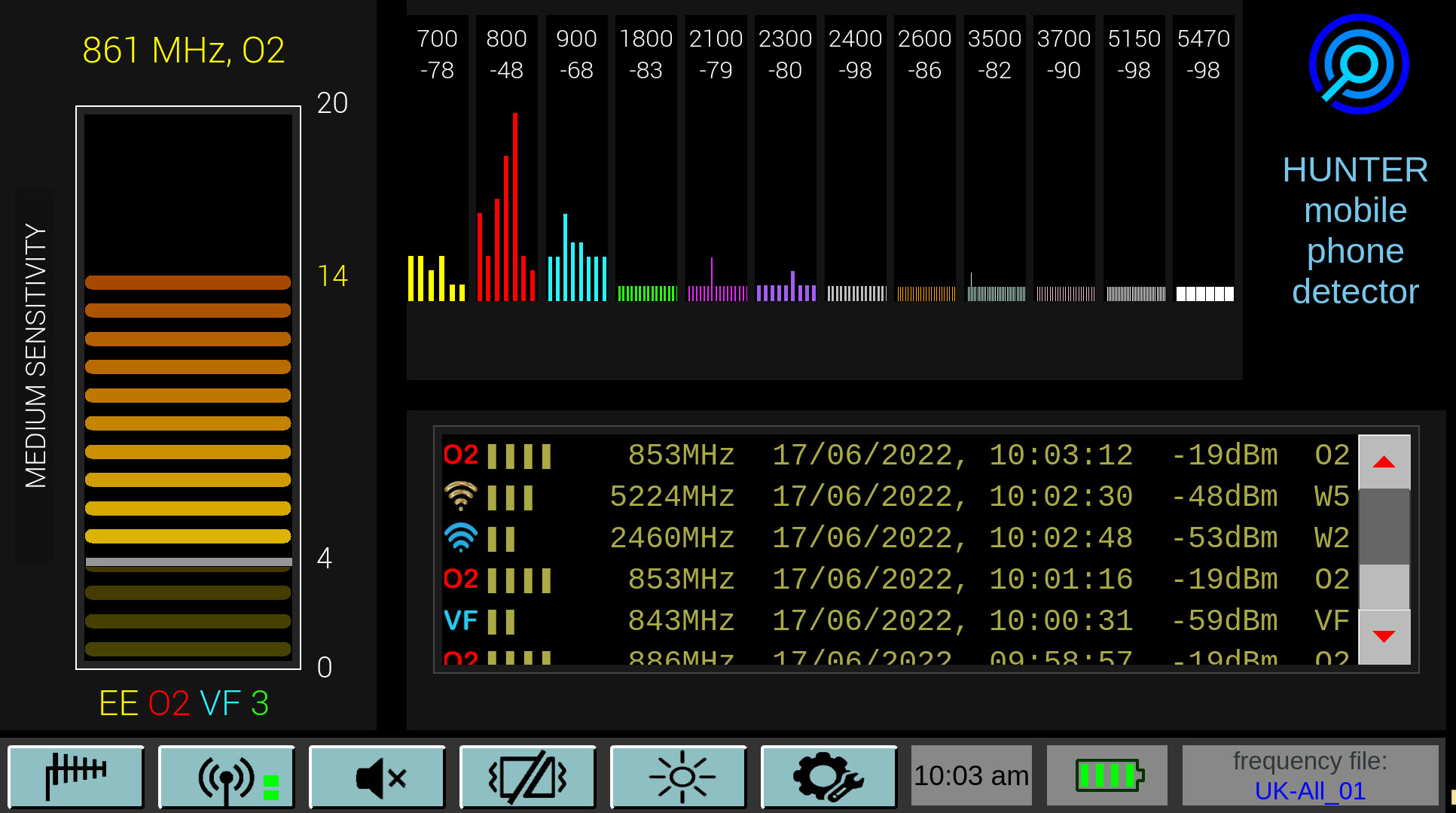 Product Description 
Hunter represents the latest in cellular RF signal detection. This feature-rich and easy-to-use tool incorporates the power of a spectrum analyser into a simple to operate cellular RF detector. It is capable of detecting every Cellular band, in any country, from 400MHz to 6GHz, including 2G, 3G, 4G and 5G, TDD data transmissions, WiFi and Bluetooth, and features dual switchable omnidirectional and directional antennas, downloadable log reports and an interference frequency filter. The tool of choice for prisons, jails, correctional, police, military and educational facilities, Hunter also has applications within the TSCM industry.
Features 
Detects 2G, 3G, 4G and 5G, SMS Texts, TDD data transmissions and even registration pings
Find active phones even if they aren't making a call
Easy-to-use controls designed for 'pick up and go' use. Requires minimal training
Switchable dual antenna system – omni-directional to find activity, and directional to track down individual phones
Interference frequency filter to cancel out interference signals
Displays the service provider, signal strength and time and date of detection in an instant, downloadable log
Large 5.5" AMOLED Display with HD touch screen
Covert display mode for night-time use
Long battery life – internal battery supports over 5 hours of continuous mobile operation, or 8 hours+ with optional external battery
Probe antenna available for covert under-door signal detection.
Tripod mountable with mains-powered option
Vibration and audio alerts either through built-in speakers or attachable ear buds
Technical Specification
Model
Hunter™
Display and Control
5.5 inch, 1920×1080, HD AMOLED backlit display with capacitive touch screen

Power on button

Cellular Data Presentation
Signal detection log on user interface displays:
Network service provider
Signal level
Frequency
Time and date of detection
Downloadable daily log file available via included USB A/C drive
Distance Range of Detection
Up to 175 feet indoors (53 meters)

Up to 1000 feet outdoors (300 meters)

Ranges can differ depending on target signal strength and external factors such as physical environment

Frequency Range
Programmable to any cellular band from 400MHz to 6GHz
Frequency bands software selectable
Signal level alert selection
High medium and low sensitivity mode
Signal threshold selectable
Receiving Modes
Cellular, WiFi/Bluetooth
Dynamic Range
70 dB  (-90 dBm to -20 dBm)
Sensitivity
-90 dBm
Bandwidth Resolution
1 MHz
Maximum Signal Input
0 dBm
Signal Level resolution
+/- 1.5 dB
Frequency identification
+/- 0.5MHz
Antennas
Omnidirectional Broadband Antenna
Directional Broadband Antenna
Touchscreen selectable
Power Requirements
USB C Adapter, 5V 3A, included with accessories
Battery
Rechargeable Lithium-Ion.
Run Time: Over 5 hours.
Charging time: 8 hours from empty
Can be used on mains power for continuous operation
Enclosure Dimensions
Width = 205mm – 8"
Height = 125mm – 4.9"
Depth = 55mm – 2.1"
Enclosure type
Machined Aluminium, hard anodised
Hand-straps
Weight
1170g excluding antennas
Ports
USB C for power supply and updates/log downloads
GIGA Ethernet for communication to PC (factory set up purposes only)
3.5mm audio jack
Alerts
Speaker for sound alert
Vibration disk for haptic feedback
Battery charging LED
Included Accessories
USB C Power supply
Hand straps
Earbuds
USB A/C drive
Directional broadband antenna
Omni broadband antenna
Padded carry case with detachable shoulder strap
Software updates
Software updates can be received by email and uploaded into the Hunter using the provided USB A/C drive
Frequency band updates
Frequency bands updates can be received by email and uploaded into the Hunter using the provided USB A/C drive
Warranty
1 year
FAQs 
Does Hunter Mobile Phone Detector identify callers or their phone numbers? 
No, but when regional profiles are used Hunter can identify the service provider of the detected signal.
Can Hunter detect more than one mobile phone at a time? 
Yes. Access survey mode to identify multiple phones using various sections of the cellular spectrum.
How far away can I detect mobile phones? 
175 feet (53 metres) indoors, up to 1000 feet (300 metres) outdoors.
Does Hunter Mobile Phone Detector detect phones that are powered off? 
No. A phone that is turned off cannot be detected.
Can Hunter detect text messaging as well as voice calls? 
Yes; the Hunter will detect and log all transmissions, even short burst signals like SMS texts.
Can Hunter detect smart phones browsing the internet or using data-based call services? 
Yes, the Hunter is designed to detect TDD data transmissions. Therefore, it can differentiate data uplinks from downlinks, a first in handheld phone detector technology.
Can Hunter only detect mobile phones or can it locate them as well? If so, how? 
Using the directional antenna, the strongest signal bar on the Hunter will peak when facing in the direction of the signal source. It also comes with a probe antenna that can slide underneath a door of the room that you suspect is the point of the illicit phone.
Can Hunter transmit RF signals? 
No, Hunter only detects RF signals.
Can Hunter units be networked together? 
No, but ask us about the Watchman installable networked phone detector.