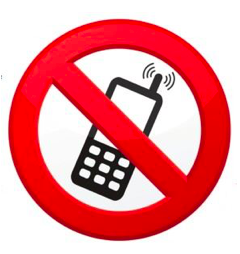 PocketHound Covert Mobile Phone Detector is the perfect device for:
Government buildings (e.g. court rooms)
Classrooms & Universities (stop cheating students)
Secured installations (prevent corporate espionage)
Correctional facilities (detect and locate contraband mobile phones)
---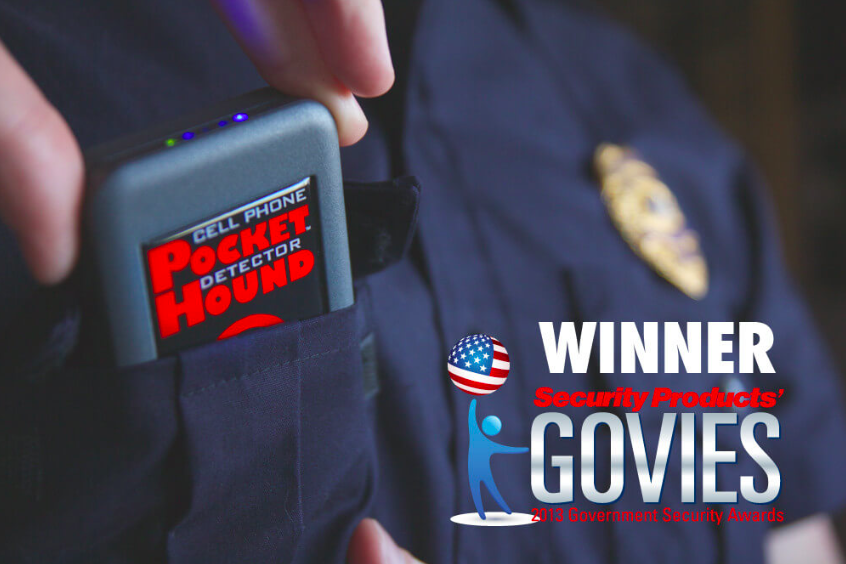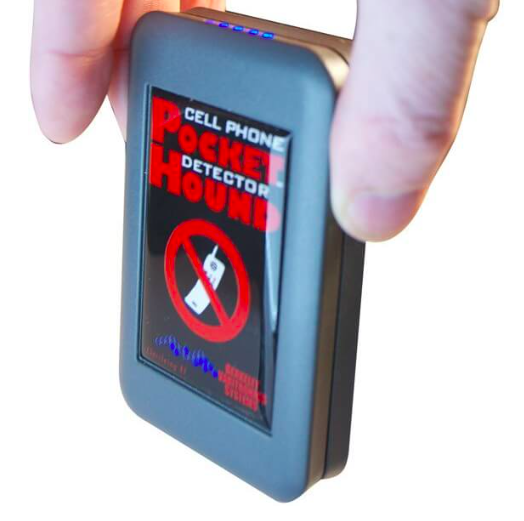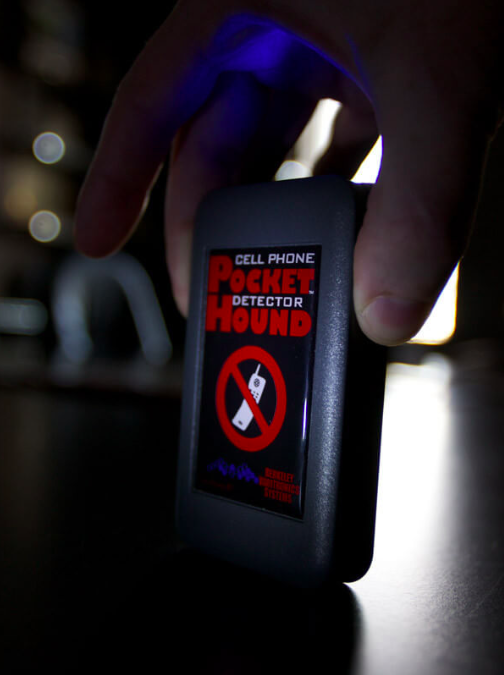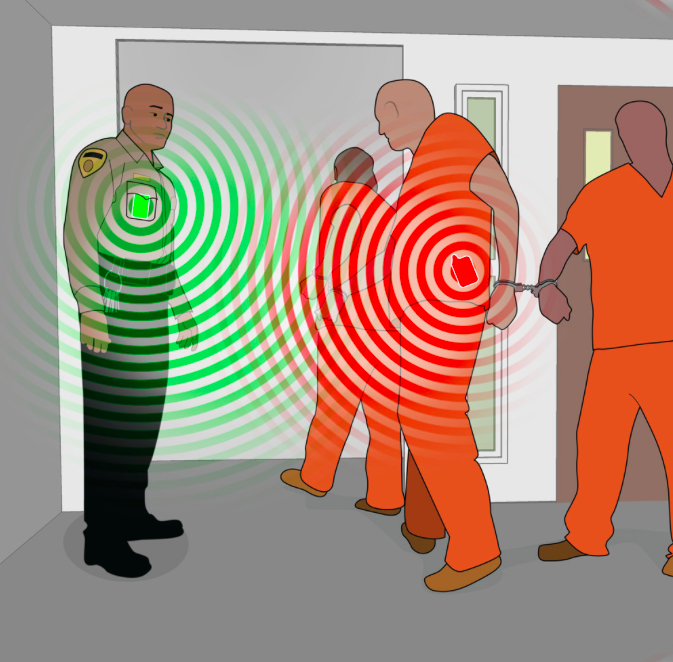 Product Description
PocketHound™ is the industry's most sensitive mobile phone detector for it's size. This award-winning* passive receiver is no larger or heavier than a deck of cards and specifically tuned to the RF signature of common mobile phones (both EU & international bands) including all 2G, 3G and 4G bands (PCS, CDMA / WCDMA (UMTS), GSM, EGSM).
This breadth of band detection allows any security personnel to locate nearby mobile phones in either standby mode* or during active voice, text or data RF transmissions making it the perfect TSCM tool for enforcing your NO WIRELESS security policy. PocketHound prevents unauthorised mobile phone use by detecting nearby (up to 75 feet indoors) mobile phones all from your pocket. PocketHound's auto threshold feature automatically detects mobile phone activity only above the RF noise in your environment. This prevents false triggers and alerts the user to any mobile phone activity with bright LED flashing or vibration for completely covert, in-pocket detection.
Features
Small enough to fit into your pocket or the palm of your hand
Auto threshold sets detection level above ambient RF noise to avoid false triggering
Perfect for prisons, corporate espionage, government secure facilities & schools too
Internal, integrated flat antenna
Up to 75 foot detection range indoors
Superbright LEDs & vibration alerts you all from within your pocket
Receiver design boasts a dynamic range of -60 dB with user settable sensitivity
Detects all phones including 2G, 3G, 4G, CDMA, GSM, PCS, UMTS & more
User selectable up to –50dBm with a resolution of 2dB for detection in a noisy environment (typical of prisons)
Selectivity rejection of at least 50 dB at 1 MHz from the uplink frequency bands provides high immunity from false triggering caused by base stations, personal communication devices and other sources of interference
User selectable mobile frequency bands allow the same unit to be used around the world; both USA and international bands supported including 2G, 3G, 4G, GSM, CDMA, PCS, UMTS, WCDMA, AWS, EGSM & more
Internal Li-ION battery runtime of 2+ hours (extended battery available as option on this product)
Platinum winner of the 2013 GOVERNMENT SECURITY AWARDS by Security Product News.
Awarded BEST OF WHAT'S NEW 2012 by Popular Science.
Includes one year hardware warranty
Made in the USA
*Standby mode (autonomous registration) varies from base station to base station with phones typically registering between once every few minutes to up to 20 minutes. This time varies greatly based upon carriers, distance from base stations and individual handset manufacturers' standards.
*PocketHound ships to that region as the default but may be switched to other supported regions at anytime by the user using the included utility software.
Technical Specifications
U.S. Bands Supported

LTE Uplink 699-716 MHz
LTE Uplink 777-787 MHz
LTE Uplink 788-798 MHz
824-849 MHz
896-901 MHz
AWS Uplink 1710-1755 MHz
1850-1910 MHz
2305-2315 MHz

(International Bands Supported)

EU / Australia / New Zealand / Israel / Canada / Sweden / Brazil / Japan

EUDD 832-862 MHz
EGSM 880-915 MHz
DCS 1710-1785 MHz
IMT 1920-1980 MHz
IMT-E 2500-2570 MHz

Check with our sales team to include your country's band selection including a custom set of bands

Radius of Coverage Area
75 feet (~25 meters) under typical conditions
Sensitivity Range
60 dB
Sensitivity
-83 dBm
Selectivity Rejection
>50 dB @ 1 MHz uplink band edges
Detector Resolution
2 dB
Bandwidth Resolution
4 MHz / 20 MHz
Receiving Modes
High-speed scanning (uplink cellphone bands)
Antennas Supported
Built-in omni-directional (under front label)
USB
Mini-USB jack for charging only
Visual Alerts
Superbright LEDs
Tactile Inputs
2-way Slider Switch
Tactile Feedback
Integrated vibrator that increases with intensity as RSSI increases
Weight
Under 1 lb.
Dimensions
4″ L x 3″ W x 1″ D
Internal Battery Runtime
Internal Li-Ion Polymer battery provides minimum run time of 2 hours
INCLUDES:
Antenna
Internal
Retractable USB Cable
USB mini to standard
Charger
5VDC
Software
PC Configuration Software
FAQs:
Does PocketHound identify callers or their phone numbers?
No. PocketHound Mobile Phone Detector is a precision RF cellular scanning device that identifies mobile phone activity (both standby mode and active modes) and assists in locating them. It is a wireless tool used by security officers and personnel that require a NO WIRELESS security policy.
How far away can I detect mobile phones?
Typical range is about 75 feet but this varies depending upon the environment.
Does the intensity of the vibration correspond to signal strength or distance from a phone?
No, the vibration of the PocketHound remains constant regardless of the signal strength.
Can I detect phones in standby mode?
PocketHound can detect phones in the standby mode but keep in mind when a phone is ON in standby it is not constantly transmitting. Phones register to the local cell tower/base station at different intervals that the tower/carrier determines (could be every so many seconds, minutes, 5 minutes, or we have seen 20 minutes). When a phone registers it is a short pulse less than 1 sec so the BLUE LED will light up quickly and vibrator will not vibrate because the pulse is so short. Easy test is if you take your phone and put it next to PocketHound and shut off your phone completely wait a few minutes then turn the phone on your phone should try to register to the base station and you should see a short flash on the pockethound.