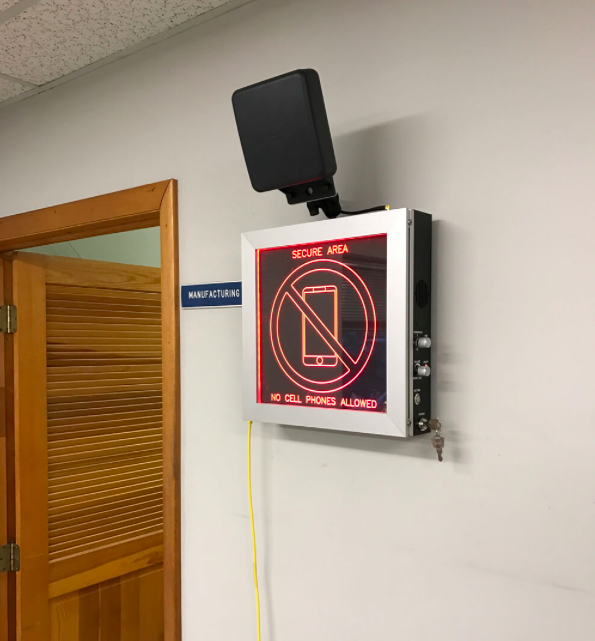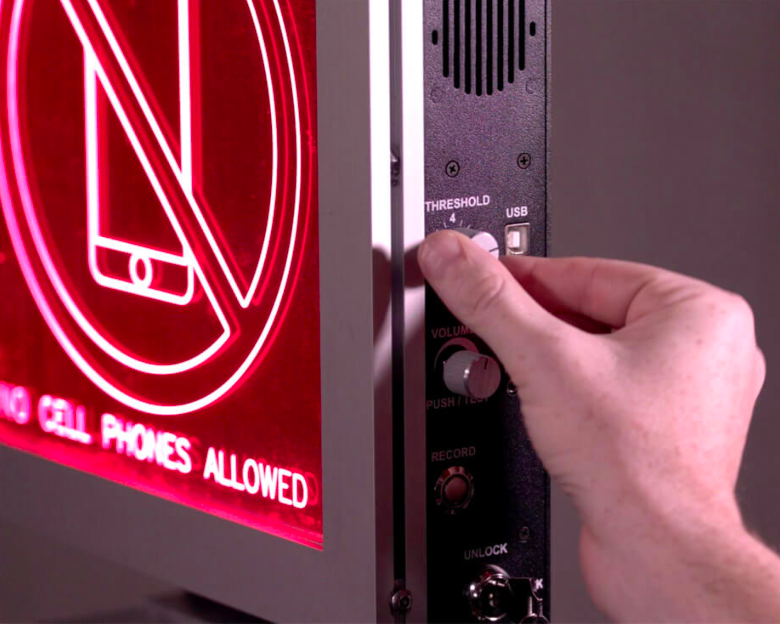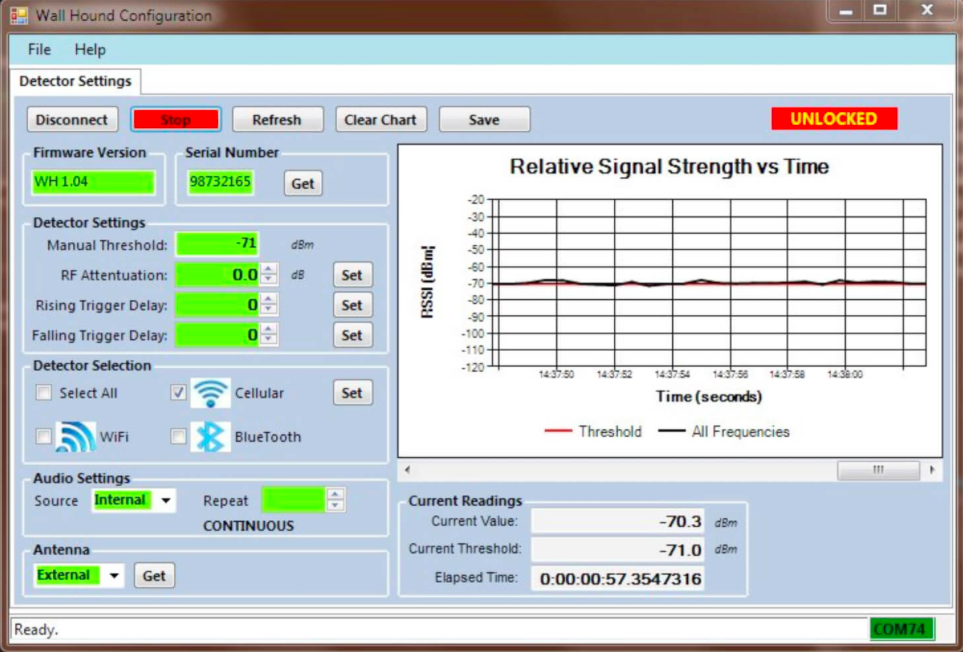 WallHound™ detects and deters individuals from using mobile phones in areas they are normally restricted, unauthorised or illegal. It works by detecting all nearby mobile phone activity including voice, data and texting. Once detected, WallHound™ alerts the mobile phone user (and anyone else within earshot) with a bright, flashing LED 'no mobile phones' sign and loud, custom audio message set by the facility. Sensitivity and alert volumes are fully adjustable and also key lockable to ensure no tampering occurs.
WallHound's strength lies in its ease of use and ability to function fully unattended.  The WallHound frees up security personnel for more pressing duties while reminding visitors that mobile phones are prohibited, making WallHound ideal for visitors in correctional facilities, court rooms or anywhere people need to be reminded about mobile phone policies.
Turnkey solution for bluetooth detection and mobile phone deterrent for illegal and unauthorised devices
Bright visual and audio alerts can be seen and heard from a distance
Customisable audio alert message upon cellular, Wi-Fi or bluetooth detection
Technical Specification
Maximum Coverage Radius
75 feet (~25 meters) under typical conditions
Dynamic Range
60 dB
Sensitivity
-83 dBm (user selectable)
Detector Resolution
2 dB
Bandwidth Resolution
4 MHz / 20 MHz
Selectivity Rejection
>50 dB @ 1 MHz
Wireless Detection
Cellular (uplink 3G & 4G bands)

2.4 GHz Wi-Fi

Bluetooth & BLE (Bluetooth Low Energy)

Antennas Supported
Internal, omni-directional antenna

Optional Direction Finding Antenna (adjustable and removable, includes antenna switch)

USB Port
For connecting to PC for remote adjustments and custom audio alerts
Microphone Input
3.5mm jack for included microphone to create custom audio alerts
Power Source
110V AC or DC (internal backup battery) power
Dry Contact Port
Triggered from other contraband detection devices via connected cable
Audio Alert
Audio alert message via loudspeaker
Included PC Software
FAQs
Does WallHound identify callers or their phone numbers?
No. WallHound cell phone detector is a passive RF cellular scanning device that identifies cellphone activity (both standby mode and active modes) and assists in locating them. It is a fixed wireless device used by security officers and personnel that require a NO WIRELESS security policy
How far away can I detect cell phones?
Typical range is about 75 feet but this varies depending upon the environment, placement/installation of unit and the use of an optional direction finding antenna compared with it's internal omni-directional antenna system.
Can I detect phones in standby mode?
WallHound can detect phones in the standby mode but keep in mind when a phone is ON in standby, it is not constantly transmitting. Phones register to the local cell tower/base stations at different intervals that the tower/carrier determines (could be every few seconds, minutes, and we have seen up to 20 minutes). When a phone registers, it is a short pulse of less than 1 second so the WallHound might only flash once and play the audio alert once instead of continually.
Can WallHound be networked to other devices or security systems?
WallHound does not contain any wired or wireless networking hardware such as an ethernet port but it does contain a USB port for connection to a PC for configuration. WallHound also includes dry contacts that allow it to be triggered from other detection devices such as our SentryHound-Pro.