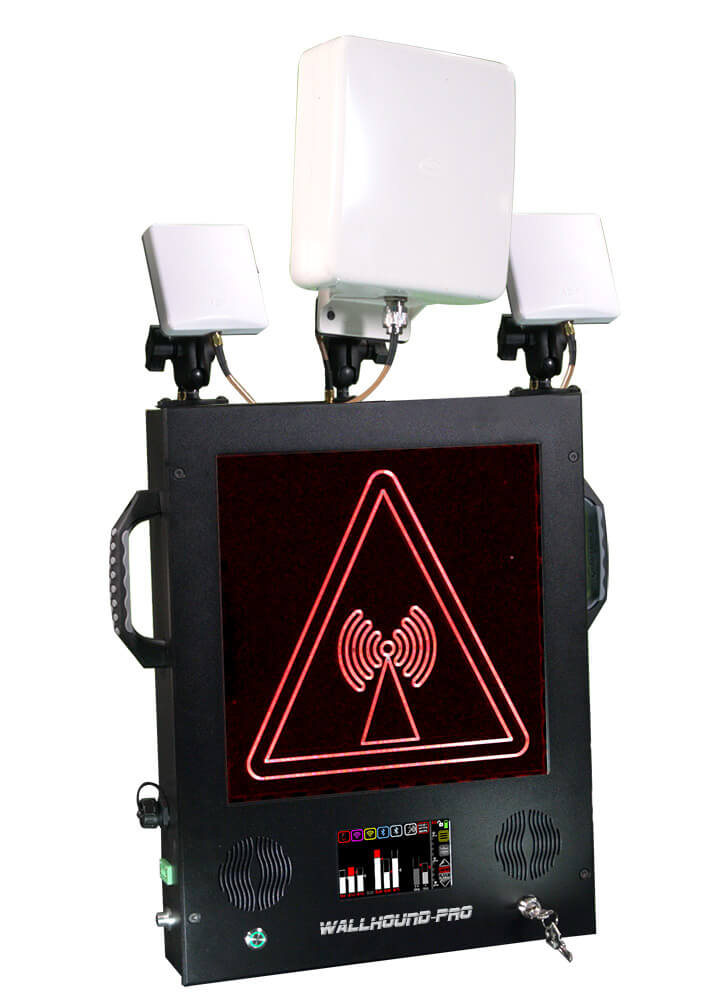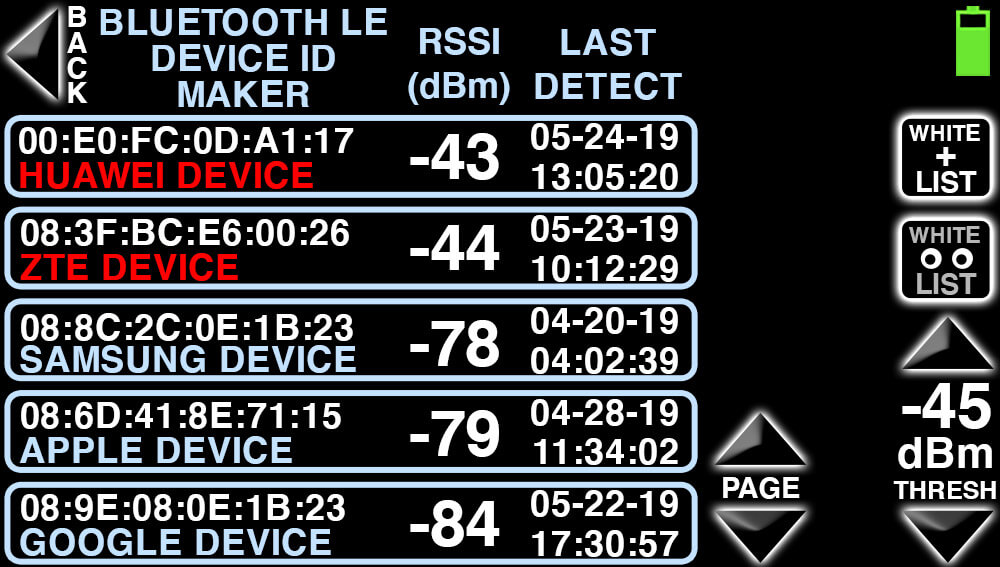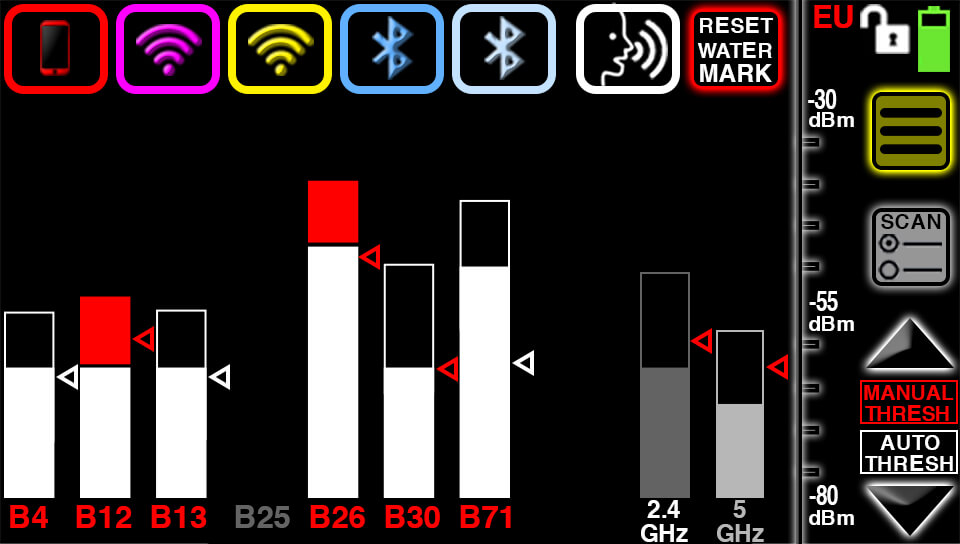 WallHound-Pro™ detects and deters visitors and staff from using any PEDs (Personal Electronic Devices) including cellular, wi-fi, bluetooth or BLE devices in secure areas. It works by detecting all nearby wireless devices and activity and alerting security personnel with color-coded flashing and audible alerts. Visual and audio alerts not only serve as a deterrent or reminder to visitors but also identify potential wireless threats by signal strength, timestamp, and other vital parameters. WallHound-Pro is completely self-contained and includes a physical key and passcode touchscreen interface for tamper-resistant settings and control over all parameters.
WallHound-Pro frees up security personnel for more pressing duties and reminds visitors and staff that wireless devices pose a security threat making it ideal for government SCIFs, military checkpoints, correctional facilities, court rooms, border security, critical infrastructure and anywhere that wireless devices can threaten security for everyone.
Turnkey solution for common wireless threats or PEDs in any secure area or facility
Color-coded visual & audio alerts that identify wireless source by signal strength, timestamp and more
Self-contained (no connection to PC) and secure making it the ultimate wireless security guard
Technical Specification
MAXIMUM COVERAGE
125 Feet (up to 250 feet using optional DF antenna line of site)
ADDITIONAL DETECTION
BSSID, SSID, Device ID, WPA, WPA2, MAC, Channel/Band #
DYNAMIC RANGE
70 dB
SENSITIVITY
-90 dBm
BANDWIDTH RESOLUTION
4 MHz, 20 MHz
SELECTIVITY REJECTION
Better than 40 dB
RECEIVING MODES
High-speed active scanning
ANTENNAS SUPPORTED
(3) Removable omni-directional SMA antennas

(3) Removable DF (Direction Finding) antennas

POWER REQUIREMENTS
110 VAC and 12 VDC internal backup battery (charges from same AC power source)
BACKUP BATTERY RUNTIME
Approximately 2-5 hours (depending upon amount of nearby wireless activity and alerts)
DISPLAY & CONTROL
480 x 272 backlit color TFT with a resistive touch screen
UNIT DIMENSIONS
14.4" x 20" x 4"
WEIGHT
15 lbs. (not including optional DF antennas and stanchion)
PORTS

Dry contacts for external trigger of cameras, DVR and speakers

USB for firmware upgrades (cannot be accessed without security key)

ALERTS
12" x 12" color-coded visuals with adjustable brightness and flashing patterns
SOUND
Voice alerts that profile each device with fully adjustable volume control
INCLUDED ACCESSORIES
(3) Omni-directional SMA antennas, power supply, wall mount, (2) keys for security lock
OPTIONAL ACCESSORIES
(3) Direction Finding antennas, stanchion mount
FAQs
Does WallHound Pro identify callers or their phone numbers?
No. WallHound-Pro is a passive RF cellular scanning receiver and deterrent that identifies cellphone activity (both standby mode and active modes) and alerts security personnel. It is a fixed wireless device used by security officers and personnel that require a NO WIRELESS security policy
How far away can I detect mobile phones?
Typical range varies based upon the device and if optional direction finding antennae are used. Bluetooth devices can be detected from about 50 to 100 feet away. Wi-Fi devices can be detected from about 100 to 150 feet away. Cellular devices can be detected about 125 to 250 feet away. These numbers vary even more depending upon RF interference, environment, line of site, placement/installation of unit.
Can I detect phones in standby mode?
WallHound-Pro can detect phones in the standby mode but keep in mind when a phone is ON in standby, it is not constantly transmitting. Phones register to the local cell tower/base stations at different intervals that the tower/carrier determines (could be every few seconds, minutes, and we have seen up to 20 minutes). When a phone registers, it is a short pulse of less than 1 second so the WallHound might only flash once and play the audio alert once instead of continually.
Can WallHound Pro be networked to other devices or security systems?
WallHound does not contain any wired or wireless networking hardware such as an ethernet port but it does contain a USB port for firmware upgrades. This port is only accessible when the security key is used. WallHound-Pro also includes dry contacts that allow it to be triggered from other detection devices such as our SentryHound-Pro.